I am so proud of myself for actually seeing a project through, start to finish, in a day. :)
"Maligayang Pasko" is how you say "Merry Christmas" in the Philippines!
When I saw these posts on House of Hepworths, I was totally inspired. I knew I could do something similar for Christmas.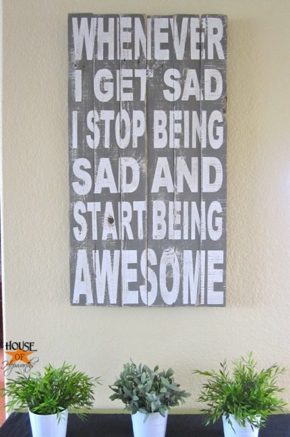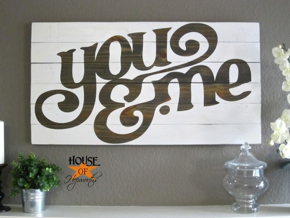 First, I went to my Gypsy (for Cricut) and designed a "Maligayang Pasko" using mostly the Calligraphy Collection font but a little of Gypsy Font. (The "li" were in the Gypsy font, just so I could get the cursive layout how I wanted it.)
Since we've taken our fence down, we've got this pile of fence panels in the back yard. So I figured they would be perfect for this project.
I set my Gypsy/Cricut design for the largest cutting mat, 12"x24", so I knew I wanted my sign to be bigger than that. I measured the boards of the fence panel and decided I needed about 9 (which was about 32"), so I took about 11 off the panel (just to be safe since some were cracking). (I decided to make two signs, one for myself and one for someone special who has to wait till Christmas to get it!)
I decided to use the greenish, weathered sign, since it looked like it could be festive. :)
I cut each one of my boards to about 19.5" (a random measurement that looked good to me!). I cheated by just cutting the boards around the sections with the nails in them (that were previously holding the fence together). (The nail-y scrap pieces went straight into the garbage/burn pile.)
I found another scrap board in the back yard that I to cut to the width of my sign as a backer for all the fence pieces. I used 5/8" 18ga nails in the nail gun to attach the planks to the back boards. (I should have also used some glue. Oh well.) I put those little nails in the front and back of the wooden sign. Once it was all together, I gave everything a quick sanding with some old 100 grit paper.
Then I collected some paint and stuff.
I cut the first "Maligayang Pasko" (on the Cricut) out of freezer paper (shiny side down). (I think posterboard or something would have been ideal, but I didn't have a piece around that was big enough or a new cutting mat that was sticky enough.) I sprayed some adhesive on the back of the cutout, then placed it onto my first set of boards. It was really sticky, which was good for my rough boards. Then I sprayed the whole thing with several light coats of red spray paint.
When I peeled off the stencil, I was so happy with the results!
But, as cool as this green looks in the picture, in real life, it wasn't quite what I wanted yet, so I decided to brighten up the lettering with some white paint. I took a small artists brush and some oil-based white paint diluted with mineral spirits (so it would be a little thinner and slightly runny) to keep everything looking weathered and rustic. (Latex paint probably wouldn't have stuck to the spray paint/rough boards as well.)
For fun and added interest, I splattered a bit of white paint around, and spread some white paint on the edges with a bunched up paper towel.
I was finally in love with the sign. I added to the weathered old look by running the sander with some old 100 grit paper lightly over the whole thing. Then I sprayed it all with some clear coat to seal everything in. Doesn't it look great?
Here it is again on the mantel!
I made two signs, start to finish, in a day, and both were done completely with stuff I already had around the house. Woohoo for a completed and free project!
What do you think? Will you be trying a decorative sign made of old boards? :)